Beautiful Antique Furniture Restoration
Most of the pieces restored at Hilken Woodworking are full restorations.
A full restoration is where the entire piece is taken apart, completely repaired, stripped and sanded, then a new finish built on the piece. This is what most people who inherit a piece request. They want the piece back to it's full strength and beauty, and I can do that for you. If you are an investor and want only a few repairs made, to ready a piece for resale, I will do that too.
I have full rebuild capabilities, but will do as little or as much as you want.
Please get in contact and share your antique restoration project.
WHITE OAK ROCKER
A family piece for several generations, this piece was restored for a daughter and her new baby.
The rocker bows and bent wood lamination of white oak, maple, walnut and cherry, Built here in the shop!
Rock on!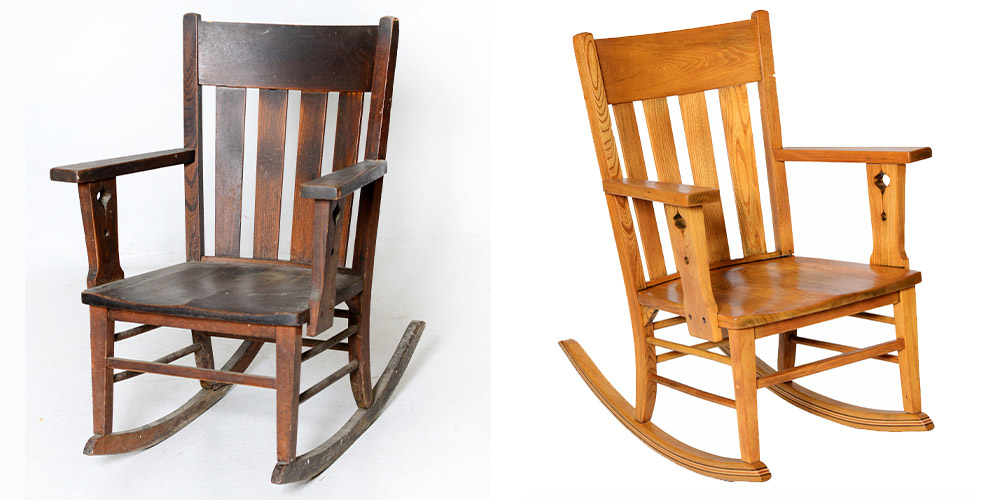 WHITE OAK ROLLTOP DESK
As you can see in the "before" photos, this desk needed a little help. It had spent a lifetime of service on the work floor of several radiator shops for two generations:
This total restoration brought complete rebuild to all the case work and drawers, as well as a new shop built tombow(?) curtain, and white oak desktop.
She was awarded 3rd in state ribbon at the 2019 Iowa State Fair. What fun!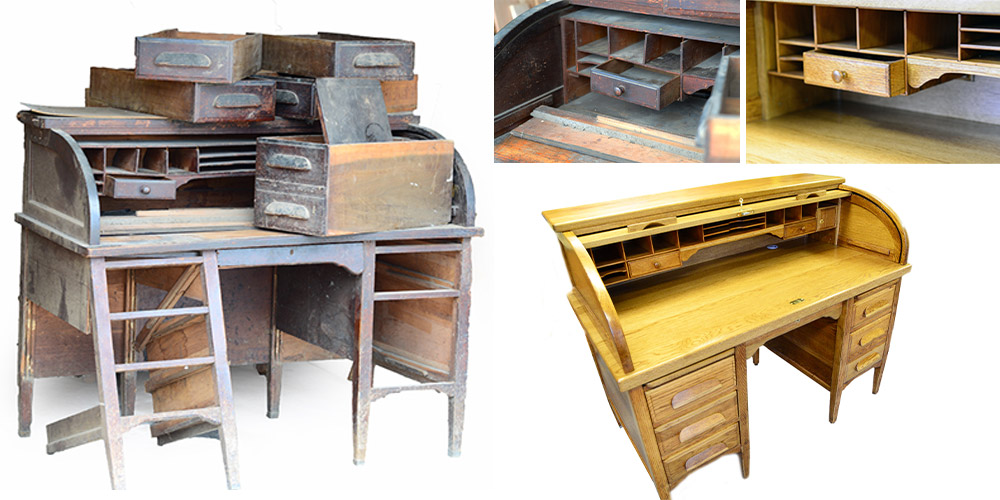 WALNUT HUTCH/DESK
This piece was entirely hand built probably 1850 to 1865.
Unique to pieces like this are the non consistent material thicknesses, existing layout lines, and tooling marks left by saw kerfs, chisels, plans and scrapes.
About three pounds of square nails came out of her during restoration, traditional joinery throughout.
Every effort is made to preserve the original message of it's designer - builder, and bring it to full strength to fully function in it's new family setting.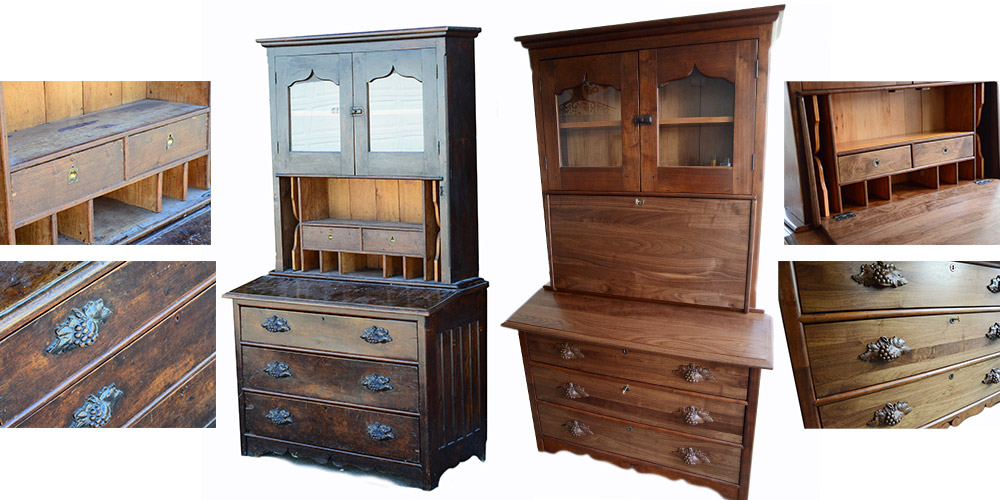 WOODEN DRESSER RESTORATION
A perfect example of a full restore. This piece came to the shop missing about half of itself.
New sides, drawers, locks, knobs, top beveled glass mirror, and porcelin casters. All finished with five coats of wet sanded polyeurathane. Good for another hundred years.
Before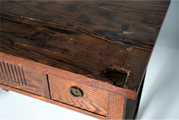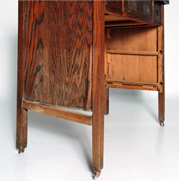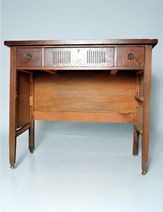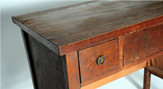 After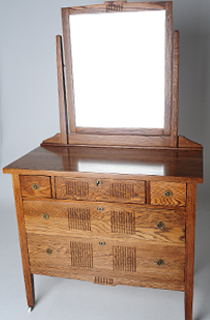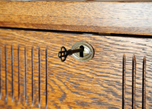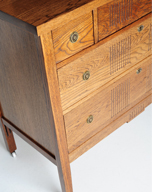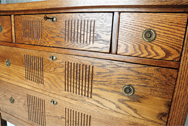 SELLERS CABINET
This Sellers cabinet (built by the Sellers Brothers Company in Elwood, Indiana ) is about a hundred to one hundred and ten years old. This is the biggest piece I have worked on. It was a total restoration. It was in about a hundred pieces for stripping and repairs when the client stopped by to decide on the stain tone, Wow mark, she commented, ya think you can get her back together? Yip, we sure did ! The piece is back to the beautifully remodeled farm house against the same wall where it had served my clients great grand mother. Terrific people, really neat piece.
Before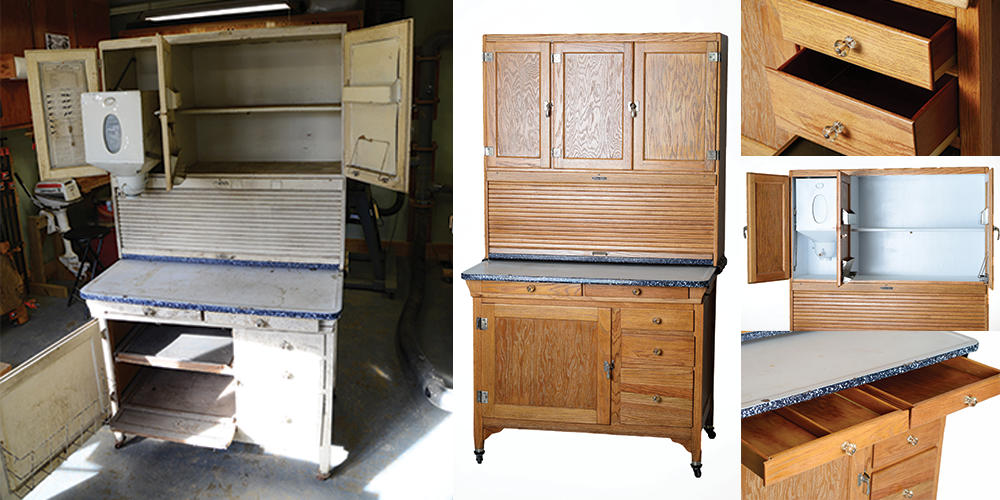 OAK SECRETARY DESK
This piece is a family heirloom piece from a local family. It was built shortly before the Civil War in North Carolina by a fellow who served as infantry during the war, (I got to see his photograph) . The piece then made it's way to Ohio, then west into Kansas.
The piece was a total restore, very special piece to me, and now safe at home with it's family.
Before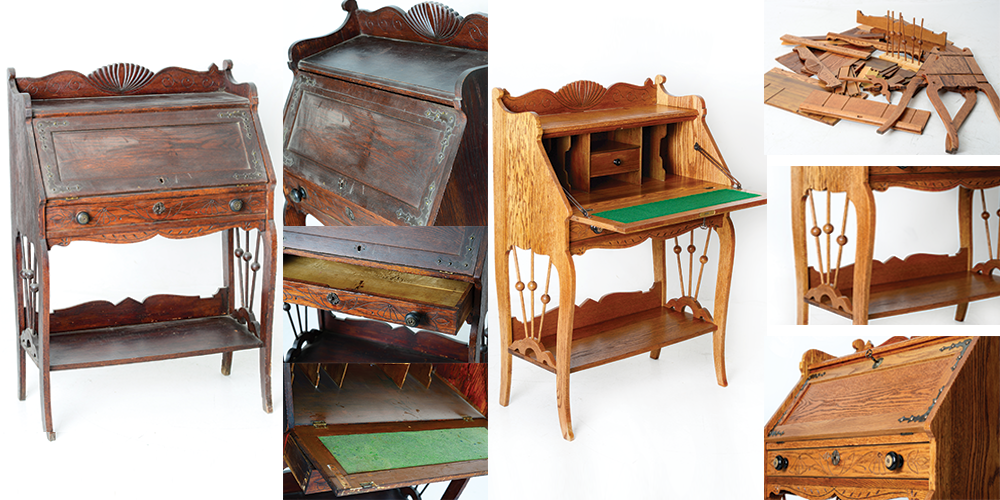 WOODEN WALNUT CHAIR
This walnut chair is one of a set of six which were a total restore. The cane work and upholstery was all done here in shop.
Before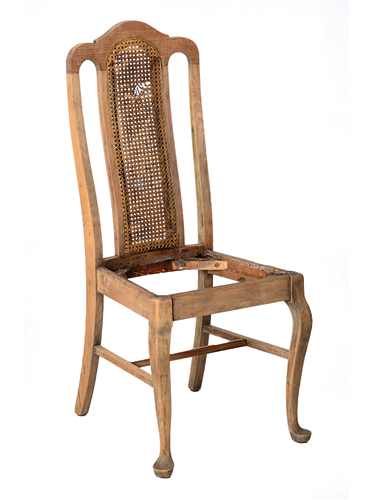 After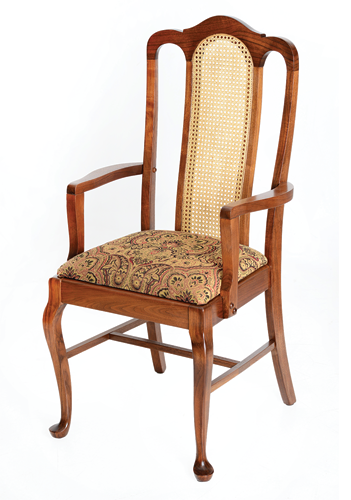 WOODEN ROCKING CHAIR
This rocker is about a hundred and fifty years old. It is of white oak, red oak , ash, and hickory mix. it was hand made. It is completely repaired and restored, a beautiful upholstered seat was put in instead of cane. Upholstery was done here in shop. The chair is one of my favorite pieces, and is now at home with it's family.
Before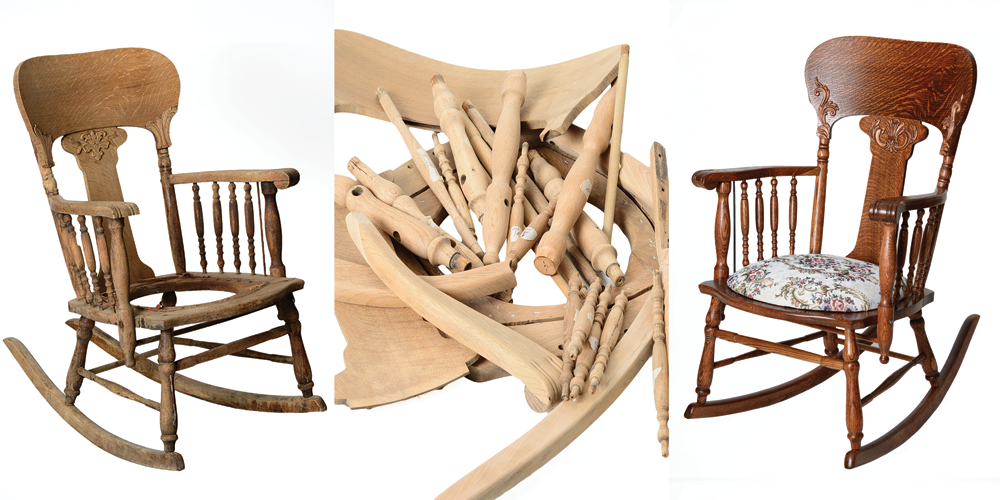 OAK TABLE
This solid oak table is a family piece going back three generations. A complete restoration. The photo shows it with and without the two original leaves in place. I built another five leaves for it, fully extended it pulls out to 115 inches. The middle support legs are correctly attached to the cleaned and repaired glides. "Character marks" were saved on the table edges, it served as a work bench at one time. This table now lives with a 4th generation family, living and working in las vegas.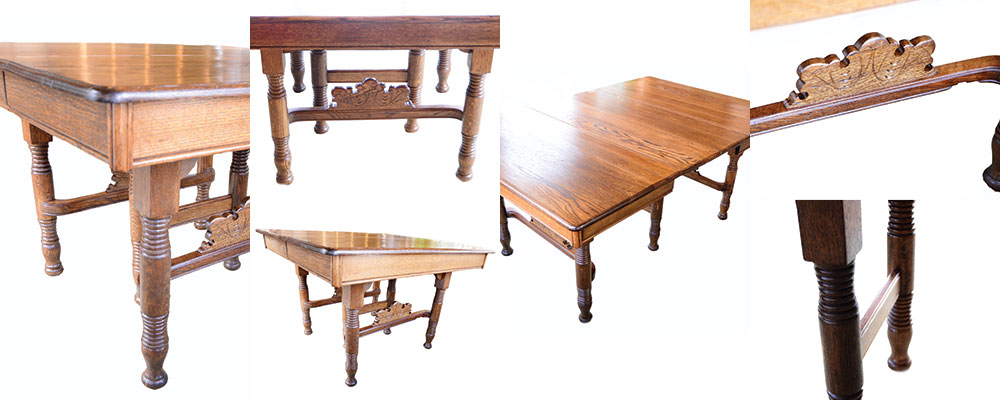 WALNUT DESK
As a little girl, my client sat with her grandpa at this desk. it came to the shop without the veneers, and in need of complete restoration. Extensive repairs and reworking of the top and sides were needed. Before new walnut veneers were applied. Drawer front veneers were repaired, the drawers restored. The desk is now with its momma, a hard working nurse.
Before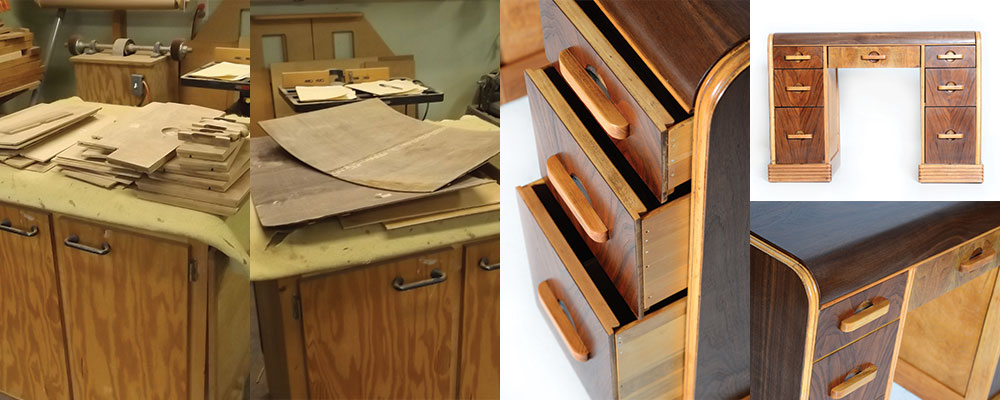 FARM CHAIR
This is a farm family chair, going back three generations. Started out as a gift to newly weds as "something used." My clients grandfather used it in his garden , and sat in the yard snapping beans. All the parts of the chair are original, the seat was saved by extensive re-working. The chair is back to work, being enjoyed by its family.
Before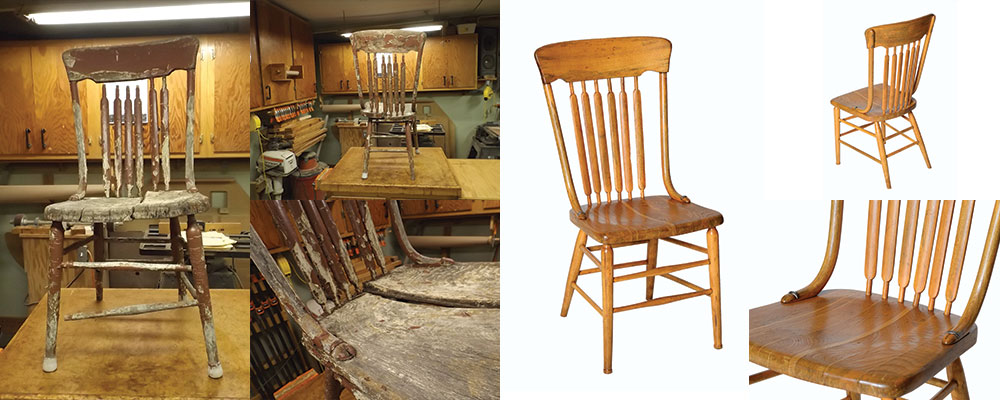 HIGH CHAIR
High Chair, one of my personal favorites. Roughly 135 years old. My client sat on it as a baby 92 years ago. it was worn out then. She had never seen it fold down into a stroller. This was a complete restoration with a new foot rest, and quarter sawn white oak tray. My client has just the perfect doll to sit in the seat.
Before